Thèse
Publications
Autre Publications
A. Amărioarei, C. Itcus, M. Paun: Phytoremediation research - how Romania is placed worldwide, Romanian Biotechnological Letters, Vol. 22, No. 3, pp. 12651-12660 ,
M. Sidoroff, I. Tusa, A. Amărioarei, M. Paun: Public perception and socio-economic analysis on the impact of DANUBIUS-RI, Lower Danube Basin, Approaches to Macroregional Sustainability, Ed. Academiei Romane, pp. 69-78, 2017
A. Amărioarei, R. Jibotean, I. Tusa, C. Itcus, M. Paun: Assessment of the Romanian medicinal plant research - from European to national level, Analele științifice ale Universității Al. I. Cuza Iași, Tomul 62, fascicula 2, Biologie Vegetală, pp.5-17, 2016 ,
Travail non publiè
A. Amărioarei: Approximation for the distribution of extremes of one dependent stationary sequences of random variables, arxiv, 2012 ,
Articles en Cours de Rédaction
A. Amărioarei, M. Paun, B. Strimbu: Selection of relevant number of terms in nonlinear regression (submitted to Annals of Forest Research)
A. Amărioarei: The influence of the scanning window shape in the two dimensional discrete scan statistics
A. Amărioarei: Approximations for the distribution of the longest monotone runs based on a scan statistic approach
A. Amărioarei, C. Preda: Approximations for multidimensional continuous scan statistics over Poisson processes
Compétences Organisationnelles
Co-président de la IUBMB Symposium on Modern Biotechnologies in Sustainable Development of the Danube Delta, May 31 - June 2, 2016, Murighiol, Roumanie
Communications à des Conférences
Séminaires
A. Amărioarei: Approximations for the distribution of scan statistics and applications, Séminaire de Statistique, IRMA, Strasbourg, 2015 ,
A. Amărioarei: Approximations for One and Two Dimensional Scan Statistics with Applications , Statistics for System Biology Seminar, Paris, 2014 ,
Posters
E. Tarnoveanu, A. Ursu, P. Ichim, A. Amărioarei: Ethological study of the rook (Corvus frugilegus L.) in Iasi metropolitan area and its ecological requirements assessment, International Zoological Congress of "Grigore Antipa" Museum, Bucharest, 2015
Software
Scan statistics simulator: a graphical user interface implemented in Matlab that permits to estimate the distribution of the discrete scan statistics in one, two and three dimensions.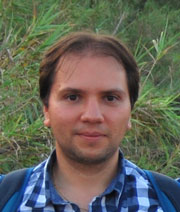 Alexandru Amărioarei Phd

Mon CV